In front of a campfire in the boundary water canoe area of Minnesota, Marc Greene confesses his past sins to Jason, his twelve-year-old son. In the innocence of youth, Jason promises he will avoid the sins of his father. Marc warns him that the heavy promises he makes now will be difficult to keep in the tough years to come.
Just a year later Marc is killed in a helicopter accident and Jason is forced to rebuild his life without his Christian dad in the fragile years of adolescence. Is Jason able to keep the promises he made to his dad at age twelve when he comes up against temptations in high school and college?
You probably don't know a kid like Jason Greene, but he exists somewhere beyond this story. You'll come to love Jason; can't help it. It's a heartwarming and easy to read story with conflicts, failures, and victories. "Just a pleasant and touching book." You'll cry and laugh through Jason's Promise – enjoy.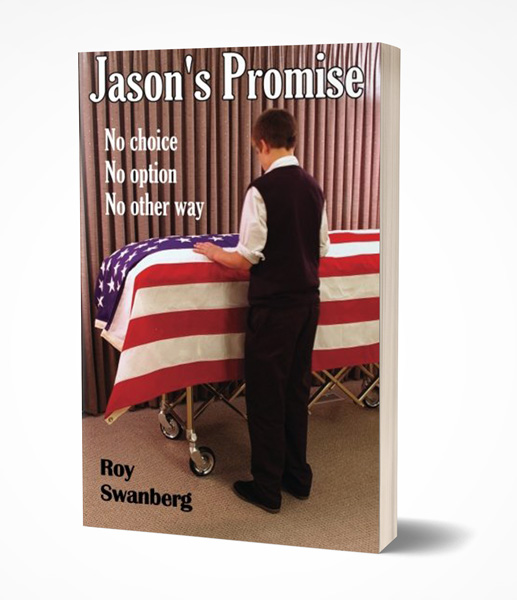 "Jason's Promise is a good book for any young person struggling with a major life crisis (parents' divorce; death of a parent or sibling; natural disaster etcetera.) Roy Swanberg has an unusual ability to write to the pre-teen and teenage readers' ability to relate to and understand situations and circumstances beyond what that age group normally experiences. This book can be helpful, empowering and encouraging to a youngster in need of compassion and understanding."
"The Jason's Promise series is tantalizing. The dialogue is natural, testimony clear…I will pray for its impact."
"The flow of the book is very good, enjoyable, and worth reading.
"As a Christian father of future teenagers, I was intrigued by the story of a teenager facing adversity in life with family, friends and his faith. Jason's Promise did not disappoint and I am glad I read it. I really appreciate quality writing and that is what I liked best about this book. Good story and setup and character development and excellent descriptions of people, events, and the surrounding that made me feel like I was there a couple of times. I want to take a canoe trip in upper Minnesota someday! I feel I know Jason now so I want to read the second book, Jason's Promise II, to see how he changes as he enters college and the temptations get even bigger. Good story, great writer and entertaining read. Recommended for teens and parents."