Prison is not the usual place to discover love, forgiveness and the grace of God. But that's where Hunter Lowe finds it. Because He Cares, Revised, is the story of Hunter's spiritual battle as God works in his life before, during, and after five years in prison.
Walk with Hunter through his idyllic high school years, into a modeling career with hopes for acting. Fall with him into a moral defeat that takes him to prison. Stand with Hunter as he travels through his darkest hours including a vicious beating that ends any career that depends on good looks. Watch how he recovers into a new life with the help of family and friends, a new cellmate and an NFL player. Share the victories of Hunter's soul from prison to being happily married and a respected person in his community.
Because He Cares, Revised,, comes out of one of America's serious contemporary issues through suspense, a touch of violence, romance, forgiveness, failures, and victories. Hunter's journey to Christ is the same we all must take, in prison or not.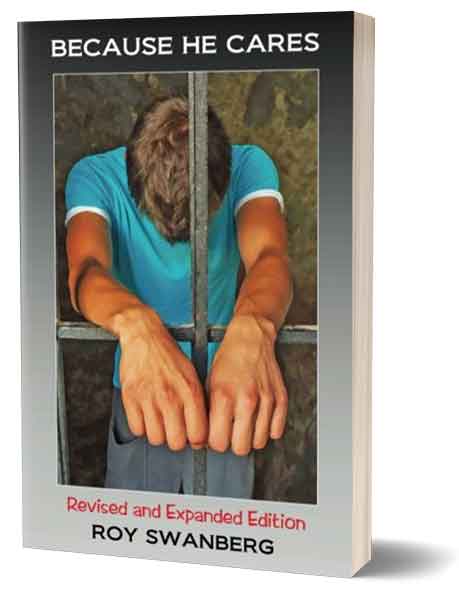 Because He Cares reminds us that "inside these walls" dwell men and women who are in need of the love and grace of God that cannot be shut out by concrete and steel. Lives that should not be ignored or forgotten by His Church.
"What an amazing story of love, truth, choices, and consequences. This book shows us how much God loves us regardless of our past. There is redemption and victory in Jesus Christ. Roy, your faith and imagination convey God's grace and mercy in this book. Thank you for your inspiration that when the bottom of life falls out, there is a God who cares. Well done faithful servant."
"Roy Swanberg's writing is captivating and believable. I was personally moved as the story developed and individualbcharacters were touched by the message of personal forgiveness and the loving grace of God. This is fiction based of cutting edge realism. Swanberg's writing is strong and delivers a solid message."
An excellent tale told by a sensitive obviously wise and very capable author. The story grabs you and holds your attention. Really a hard one to put down. The author writes with a true sense of passion,lacing together situations that hold you in suspense while you read toward the ultimate outcome. Does he find his way or …? Highly recommended for avid readers.